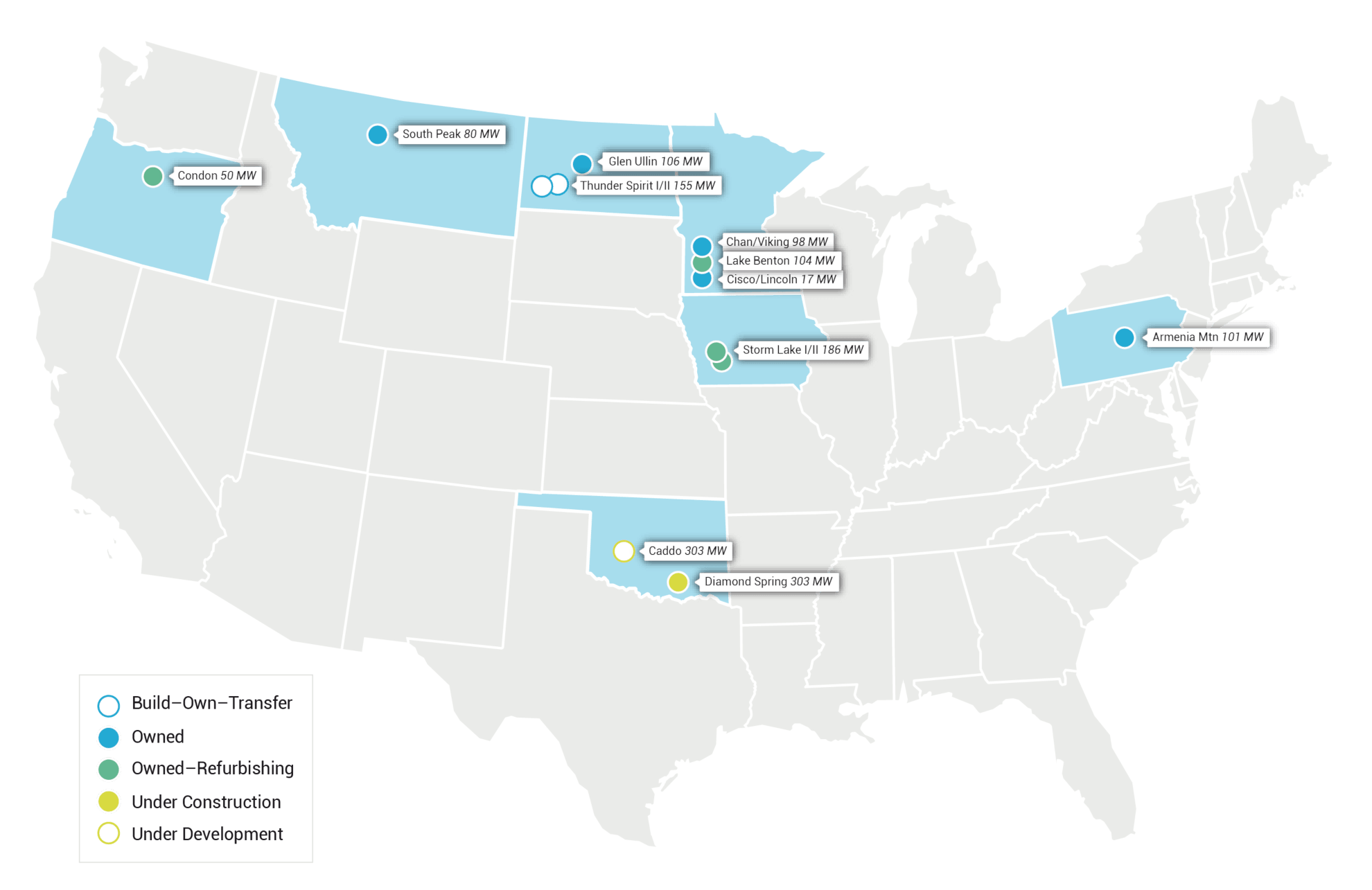 We're delivering wind energy across the nation.
ALLETE Clean Energy's latest renewable energy project is the approximately 300-megawatt Diamond Spring wind site, the company's largest, in Oklahoma. Diamond Spring, expected to be online by Nov. 1, 2020, also marks ALLETE Clean Energy's entry into the commercial and industrial power market. Its wind power is fully contracted to Walmart, Starbucks and Smithfield Foods.
ALLETE Clean Energy is developing a second Oklahoma wind project for the C&I market. The approximately 300-megawatt Caddo wind site also is fully contracted to McDonald's, Hormel and the Oshkosh Corp., and is expected to be online in late 2021.
Two other recently completed wind sites serve utility customers. The 106-megawatt Glen Ullin Energy Center wind site in North Dakota, completed in late 2019, delivers renewable energy to Xcel Energy. The 80-megawatt South Peak wind farm in Montana, completed in early 2020, sells energy to NorthWestern Energy under a long-term power sale agreement.
Much of this latest round of wind energy development was supported by ALLETE Clean Energy's $135 million investment in wind turbines that qualify for federal Renewable Energy Production Tax Credits. The investment allows ALLETE Clean Energy to aggressively pursue its three-pronged growth strategy that includes building and operating new wind farms based on long-term power purchase agreements, building wind farms for other companies for a development fee or a sale price, and refurbishing its existing wind farms while extending power sales agreements.
Landowner Participation
Leased land allows the landowner to optimize land use. A small portion of the leased land is needed for siting turbines and development of access roads intended for mutual use. The remaining land continues to be available for landowner use, such as farming or grazing. This dual use provides additional annual income to landowners.
Community Support
Our wind sites provide direct community benefits through jobs, local business investment, property tax revenue, and other contributions. We value the communities where we live and work, and we look forward to forging partnerships with landowners and local communities.
For more details about each wind site, click on the links to the left.